When I think of Copenhagen, I think of bikes. I see swarms of cyclists waiting for the green light. They look like the most beautiful insects, with their metallic colours glittering in the sun.
I see their sudden movement when the light finally turns green and the inevitable loss of the nearby cars trying to turn. We tend to think that cities like Copenhagen or Amsterdam have the so-called "cycling culture" which means there have always been more bikes than cars on the streets. Nothing could be more wrong.
A Canadian-Danish urban designer, Mikael Colville-Andersen, convinces that such culture was built and, what is more interesting, it can be repeated elsewhere in the world. It was just a matter of time when Danes changed their car seats to saddles. In the late 60s a Copenhagen urbanist Jan Gehl re-designed the city in order to make it more cyclist-friendly. However, it was Mikael Colville-Andersen who encouraged the people to ride bikes with his social movement "Cycle Chic" in the late 00s. Nowadays more than 60% inhabitants use this mean of transport in their everyday life and Copenhagen remains number one among cities adapted for two-wheels transportation.
Copenhagen has become a model city. Urban designers coined a term "Copenhagenization" to describe the strategy focused on making a city more accessible to bicyclists and pedestrians. It has even become an index to measure such facilities in other metropoles, "a real indication that people care about their cities and want them to be healthier, happier and more convenient", as stated on the Copenhagenize Index website.
Developed cycle routes, such as Bicycle Snake, a long bicycle ramp designed by DISSING+WEITLING Architecture, are widely admired and regarded as tools to creating cities that are more "liveable". Or "life-sized", meaning adequate to the inhabitants' needs. Not only can that be improved by cyclist-friendly solutions but also by decentralization of the city: with self-sufficient, walkable and car free neighbourhoods. I remember my amazement when I realised for the first time that building on a modern estate in Copenhagen have no parking lots but they share common bicycles instead.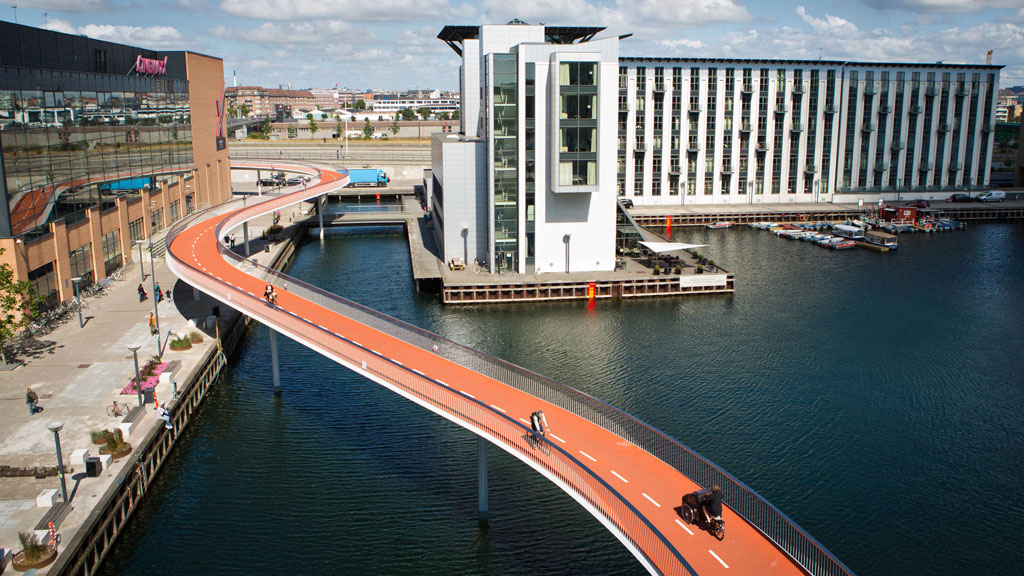 Denmark's metropole is definitely a friendly city. It is cyclist-friendly and pedestrians-friendly, with extensive public transport network connecting Copenhagen with Sweden's Malmö. It is also eco-friendly, being the world's greenest country according to Global Green Economy Index (GGEI) for consecutive years). It is children-friendly, regarding the number of playgrounds, multi-cultural, tolerant and open-minded. All these features can be found in projects by Bjarke Ingels Group, such as Superkilen neighbourhood in Norrebro. Here you can find facilities for both pedestrians and cyclists, culturally-neutral decorations and creative playgrounds.
Child-like imagination, colourfulness and esthetic value of such projects lead us to other important ingredients of Copenhagen's uniqueness. When you come to this city, you really feel like staying longer. Is it possible to make a little Copenhagen in other places in the world? Jan Gehl was hired by the city of New York to implement his solutions on another side of the ocean, and the Copenhagenize project involves various cities perfoming lange improvement in making their urbanism more bike-friendly. So, it's happening.